Clear Aligner Comfort is Everything!
Why does a patient go for treatment with Clear Aligners?
Well, there are a lot of upsides to clear aligners when compared to traditional braces. Mostly it has to do with the main pointers, namely:
Visibility – No one wants to be called metal mouth or train tracks!
Removability – It makes cleaning easy and hey you can eat whatever you want.
Comfort – No metal pricks and pokes or blemishes!
Hygiene – Braces can lead to gum-related problems, white spots after bracket removal, and/or calcium deposits around brackets.
Today our focus is comfort.
An aligner is usually recommended by the Orthodontist/aligner company to be worn for a period of 2 weeks. If the aligner is not trimmed right, it's going to be an uncomfortable ride for the patient. Untrained technicians might not be able to give the aligner the finish that is required to make a perfectly smooth clear aligner.
Quiteclear has a stringent check for quality control at each stage. The semi-automated production line is the best way for Quiteclear to be able to manufacture thousands of clear aligners per month that are all of the same quality. With a smooth finish! No burrs that irritate the gumline.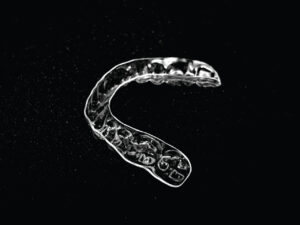 This image is not one of the many overused ones taken from the internet. Rather a proof of our excellent quality. Ask us for samples today.
Quiteclear provides white-label manufacturing services to clients who can trust the product to always be of top quality. The quality standards include factors such as maintaining the transparency of the aligners, uniform thickness (one aligner per sheet), and offering top brands of foil such as Duran+, Taglus, Zendura, and Erkodur, etc. for the clients to choose from.
Get started with samples. Let's connect@quiteclear.io or chat over the phone +91 9909973333) and discuss more.