Clear Aligner Attachments Explained
Offering Clear Aligner treatment to your patients is easier than ever before. There has been a great advancement in digital dentistry, increased use of intra-oral scanners, and a general boost of confidence amongst dental professionals regarding the results aligners can achieve to correct the malocclusion. Clear Aligners are integrated with the use of attachments to successfully treat misaligned teeth.
What Are Attachments?
Attachments are tiny tooth-colored dots/tooth attachments/ bumps/ buttons/ engagers so as they are known. They come in various shapes, and each one serves a different purpose. They are strategically placed on specific locations of specific teeth to get a certain movement of those teeth as well as aligner retention.
Shapes and Types of Attachments
Conventional attachments are in the shapes of Ellipsoids (Usually 3 mm tall, 2 mm wide, 1 mm prominence), Rectangular (Usually 3, 4, or 5 mm tall, 2 mm wide, 1 mm prominence), and Rectangular beveled (Usually 3, 4, or 5 mm tall, 2 mm wide, 0.5-1.25 mm prominence). These conventional attachments are mostly used for space closures and aligner retention (Placed on molars).
Ellipsoid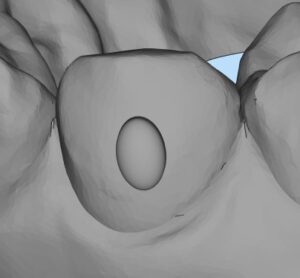 Rectangular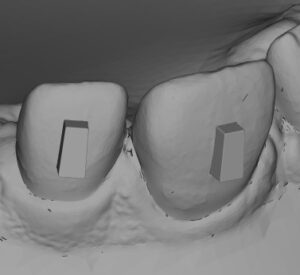 Rectangular Beveled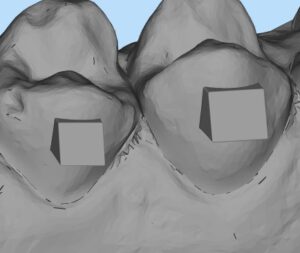 Rotation Attachments – Placed on upper and lower – canines and premolars.
Extrusion Attachments – Placed on upper and lower – incisors and canines.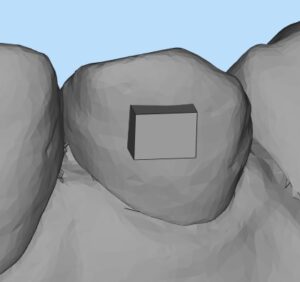 Multi-tooth Anterior Extrusion – Placed on upper incisors.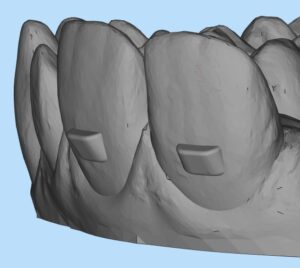 Root-Control attachment – Tipping – Upper central and lateral incisors, Upper and lower canines, and premolars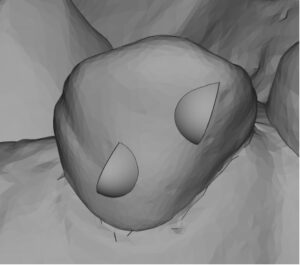 Multi-plane Movement features – Extrusion ± crown tipping ± rotation – Upper lateral incisors
Deep Bite Attachments – During an anterior intrusion, Deep Bite Attachments are used for anchorage/retention or activated for premolar
extrusion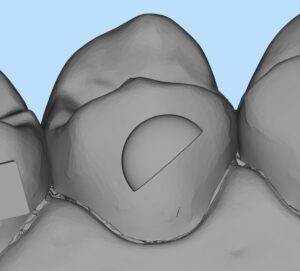 Bite Ramps – Upper incisors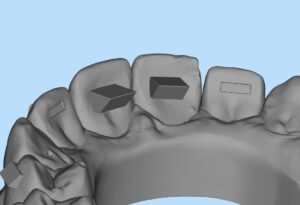 Aligner Retention – Molars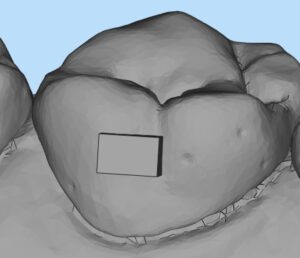 How Are the Attachments Applied to the Teeth?
Application of the attachment (also commonly known as buttons) on teeth is easier than thought. These tiny attachments are placed on teeth within a dental set-up using an aligner template, composite, and a UV Pen. When the treatment for the patient is planned in the software, the planning Orthodontist determines the shape and location of the attachments.
The attachment template is made from a thin plastic sheet (Usually of a thickness of 0.3 to 0.5 mm compared to aligners which are usually of a thickness of 0.625 mm – 0.8 mm). Composite material is placed inside the attachment bump cavities of the template and the patient wears it. Using a UP Pen the composites get hardened on the teeth.
Are the Attachments Visible?
A composite material is used for placing the attachments and it does a pretty good job of blending well into the tooth color making it barely noticeable.
If you wish to learn more about the use of clear aligners for treating crooked teeth and want to get started but do not know how and where and what of this new advancement in digital dentistry, feel free to connect with us and we can talk in-depth about how to get started with your first case.
Quiteclear manufactures orthodontic aligners for Orthodontists, dental labs, clinics, and clear aligner companies as a white-label service. If you are interested, please visit quiteclear.io to learn more. You can also write to us at connect@quiteclear.io or call us at +91 990 997 3333.