Button Cuts & Elastic Hooks in Clear Aligners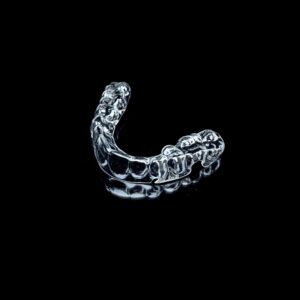 Can Clear Aligners Treat All Kinds of Malocclusions?
Orthodontists are still limiting the use of Clear Aligners for treatment till Class I malocclusion cases only. Why do you think they shy away from treating Class II and Class III malocclusion cases using removable plastic aligners? In our experience, it's mainly because they are not yet familiar with the concept of the use of elastics with clear aligners.
What Are Buttons and Elastics Used for? 
Let's dive a bit deeper into the role of elastic bands in orthodontic treatment. The use of elastics is most useful to treat severe malalignment issues like Class II and Class III malocclusions, rotations, and crossbites. Buttons are placed at specific points on the maxillary and mandibular arches to exert pressure and move the teeth into desired positions. Button cuts and hooks are strategically placed on the clear aligners to improve anchorage and increase the efficiency of certain orthodontic movements. This force created by the elastics through plastic tooth aligners leads to desired movements.
Are Elastics Used to Treat All Cases?
Do keep in mind that not all cases may require elastics. The application may be based on case complexity and desired tooth movements. The Orthodontist planning the treatment plan will determine if the use of elastics should be integrated into the course of treatment as well as the stages at which the buttons should be necessary.
Quiteclear manufactures removable tooth aligners as a white-label service for Orthodontists, clinics, dental labs, and aligner companies. Based on our manufacturing for such a wide pool of clients, we are experienced in expertly manufacturing clear aligners with button cutouts and slits on the aligners. We use the right tools to make a half-moon cutout that has clean rounded edges. The cutout can accommodate mostly all bondable buttons with rubber bands (elastics). The same applies to hook cuts and ridges as well.
As a manufacturer, Quiteclear understands the need for facilitating custom requests such as the manufacturing of clear aligners with button cuts and hooks. Feel free to give us a call to discuss your needs and ask us to know more about the use of elastics!
www.quiteclear.io | +91 990 997 3333 | connect@quiteclear.io