What is the Ideal Material and Thickness for Clear Aligners and Retainers?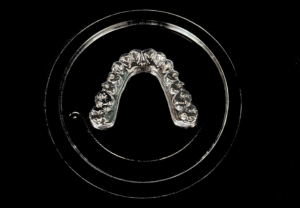 Quiteclear operates as a private Label Clear Aligner Manufacturer shipping to clients worldwide. As a service provider, Quiteclear offers multiple brands of thermoforming foils in varying thicknesses. The ordering process on our Quiteclear Dashboard is extremely simple. It starts with our client logging in using their provided credentials, uploading digitally planned treatment files for a patient, and selecting various variables such as choice of foil, required trim, add-ons, etc.

Here we will focus on the various brands of foils we currently offer. Our list is not limited to those mentioned here. Different Aligner brand sheets can be offered subject to availability and within the purview of quality standards.
Attachment Template:
Scheu Duran+ 0.5 mm

Scheu CA Pro+ 0.5 mm

Taglus Premium 0.5 mm

Erkodent Erkodur 0.6 mm

Erkodent Erkodur-al 0.6 mm

Zendura AT 0.38 mm
Aligners:
Scheu Duran+ 0.625 mm

Scheu Duran+ 0.75 mm

Scheu CA Pro+ 0.75 mm

Taglus Premium 0.8 mm

Taglus PU FLEX 0.76 mm

Taglus Standard 0.762 mm

Erkodent Erkodur 0.8 mm

Erkodent Erkodur-al 0.8 mm

Zendura FLX 0.76 mm

Zendura A 0.76 mm

Essix ACE 0.75 mm

LeoneAmerica Leone 0.8 mm

Bartmedical Ghost Aligner 0.75 mm
Retainers:
Scheu Duran+ 1 mm

Taglus Premium 1 mm

Erkodent Erkodur 1 mm

Erkodent Erkodur-al 1 mm

Zendura A 1 mm

Essix ACE 1 mm

LeoneAmerica Leone 0.8 mm

Bartmedical Ghost Aligner 1 mm
Nightguard/ Bleaching/ Special Requirements
Scheu Bioplast Bleach 1 mm

Scheu Bioplast 2 mm

Scheu Durasoft pd 1.8 mm
Our objective for providing such a vast range of materials to choose from is very straightforward. Each client is different,  as are their preferences and budgets. By offering the flexibility to choose their own materials for clear aligners, we are making them independent in terms of choice and control over their cases. Orthodontists looking to launch their own aligner brands find such services highly valuable. 
As a clear aligner manufacturer, we are often receive inquiries about recommendations for thermoforming foils to use for making clear aligners. 
Questions range from "Which foil offers good clarity?" to "Which foil has the least breakage?" and "What's the best foil for cases with multiple attachments?" There's no one-size-fits-all answer to these questions due to variables such as cost, case complexity, preferred foil type, budget, etc. A simple phone call discussion quickly resolves these queries, allowing us to offer tailored suggestions.
The link below provides an excellent example of a comparison chart from one of the brands whose foils we offer for clear aligner production. It clearly distinguished two of its offerings based on many criteria. It greatly helps the client make informed decisions and choices.

Comparison Chart Example:
https://www.zenduradental.com/pages/comparing-zendura-flx-and-zendura-a
To learn more about making your own choices and building your clear aligner brand, let's chat:
+91 990 997 3333 | connect@quiteclear.io | www.quiteclear.io